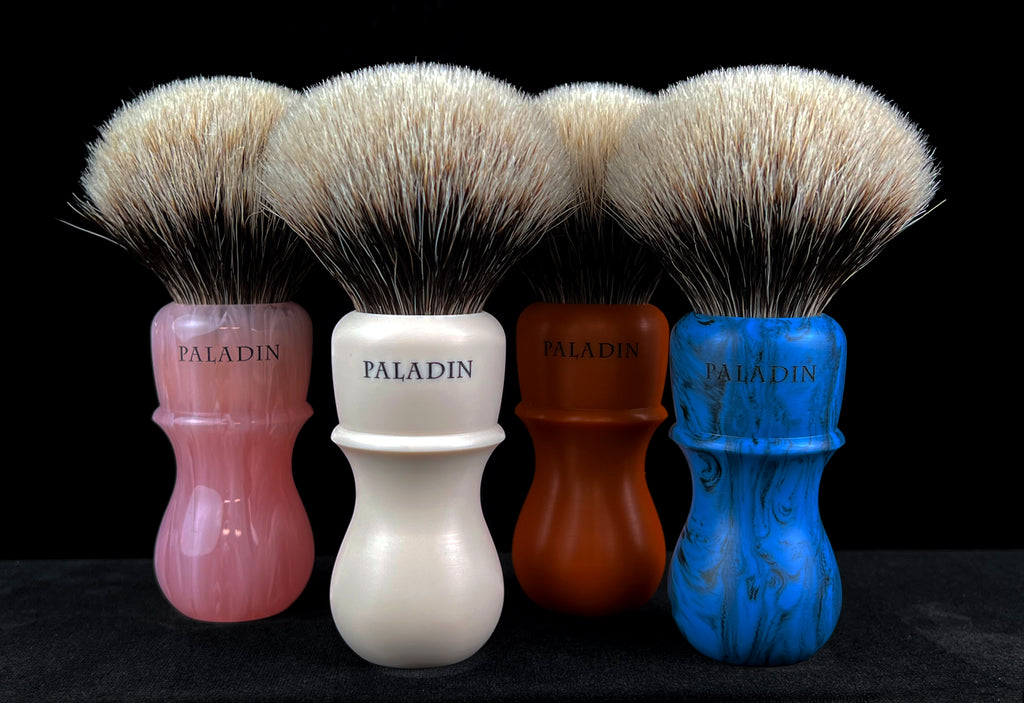 Please Note:
The brush you have added to your cart may only be reserved in your name (pending completion of the transaction) for five minutes from the time you submit payment
Pre-order 26 mm Ichabod set with Synthetic B3 knot -
Composition of the Current Offering:
Believe it or not, this handle design was most directly inspired by and derived from the Paladin Cleo, which in prior turn derived from our El Dorado. The Paladin El Dorado was very respectfully based on a rare Simpson M8 in our collection of vintage butterscotch.


In April of 2018 we posted a photo of five, unfinished Ebonite Cleo handles, which included an example turned from Cumberland Honey. We kept that one, and while handling it one of us noticed that it was remarkably comfortable to hold upside down. At the time we talked about the possibility of integrating elements of the Cleo's design in a barber-style handle. We finally got around to making a start on that project in early January of this year. A first prototype came off the lathe on February 22, but after we inserted a knot in it, we weren't satisfied with the proportions. A succession of distractions subsequently cropped up, and the project stalled. In May, however, we returned to it and, after making a few adjustments, finalized our 32nd official Paladin handle design.


Although in our experience the Ichabod works just fine for face lathering, with a handle height of about 73 mm, many will probably find it better suited to bowl lathing. Handle diameter is close to 37 mm (as compared to a 26 mm Chief's 38 mm girth). But the Ichabod does not, in our opinion, feel small in hand. In fact, we find it to be very well balanced and comfortable to hold. And now, finally, we're pleased to introduce the new Ichabod!
Shipping:
In the absence of a compelling reason to consider an alternative carrier, shipping will be via USPS Priority Mail with insurance. We will charge $10.00 for shipping and insurance of orders for single brushes and add $2.50 for each additional brush in the case of orders for multiple brushes. 
Note that we are not able to ship brushes containing badger hair to non-US addresses. Many of our customers, however, use forwarding services such as 
www.shipito.com
.
Notes:
If you are interested in either Juma or Micarta, please send an email to 
paladinshaving@darkholler.com
 with the header, "Beehive Pre-order special material request."
Caveats:

1.) These brushes haven't been made yet. Production starts with turning handles in our shop in Fort Collins, Colorado. The handles are then handed off to Cody in Clark, CO, where he hand-finishes and engraves them. After that they go back to Fort Collins for knots, photographs, and order fulfillment. The cycle takes a few weeks minimally. We hope to have pre-order brushes made and ready to ship within about a month from their respective order dates, but we're not in control of everything that can bear on that happening. If we encounter any significant delay, we'll communicate promptly with customers holding affected orders.


2.) We'll make one brush per respective brush ordered (using our judgment with respect to placement of engraving) and won't offer alternate choices for substitution. Please take this into consideration when selecting a material with high variability in pattern. If you tend to be very picky about that sort of thing, we completely understand, but this pre-order process might not be best suited to you. 


3.) This round of pre-orders will require an advance payment in full. If you wish to cancel your pre-order more than 24 hours after its submission, there will be an $80 non-refundable cancellation fee. 


4.) Pre-ordered brushes will not be returnable for a refund except by reason of a defect in material or workmanship.


5.) All pre-orders submitted pursuant to this process will be subject to availability of knots and handle material. We may have to cancel and refund orders if they accumulate to exceed existing inventory or production capacity. Unfortunately, we haven't yet worked out a way to automatically discontinue acceptance of orders when one among several limits has been exceeded. 


6.) The pre-order process, these instructions, and the pre-order form will be subject to change. So, please review this page whenever you return to it before submitting a new order. 
7.) Only 2CLND9  semi-bulb badger hair knots and B3 synthetic knots are being offered for pre-ordered brushes at that this time. The materials currently available for selection are listed in drop-down menus under the two photos below. Examples of each material can be seen by visiting the 
Paladin Brush Shop
, making sure 
In Stock
 is de-selected, and then selecting materials (e.g., Butterscotch) of interest. Note that images of handles made from the same material may appear to be different due to different lighting, composition, camera settings, and/or variation in the material. Note also that we offer many (but not all) materials in two different finishes: polished and satin.
How to Pre-Order:


1.) Click on the pre-order button immediately below the handle style with your preferred engraving option and knot choice.


2.) Next, you'll be taken to a page where you can select your preferred handle material via drop-down menu. Again, please note that some materials have high variability from handle to handle. Note also that the image that appears after you select a material will probably NOT match the selection.  


4.) After you've made your material selection, continue to checkout.


5.) Once your brush is made and ready to ship, we'll send you an email with tracking information. 
Socket diameter: 26 mm
Handle h
eight: 73 mm ± 1 mm

Handle diameter
: 37 mm ± 1 mm