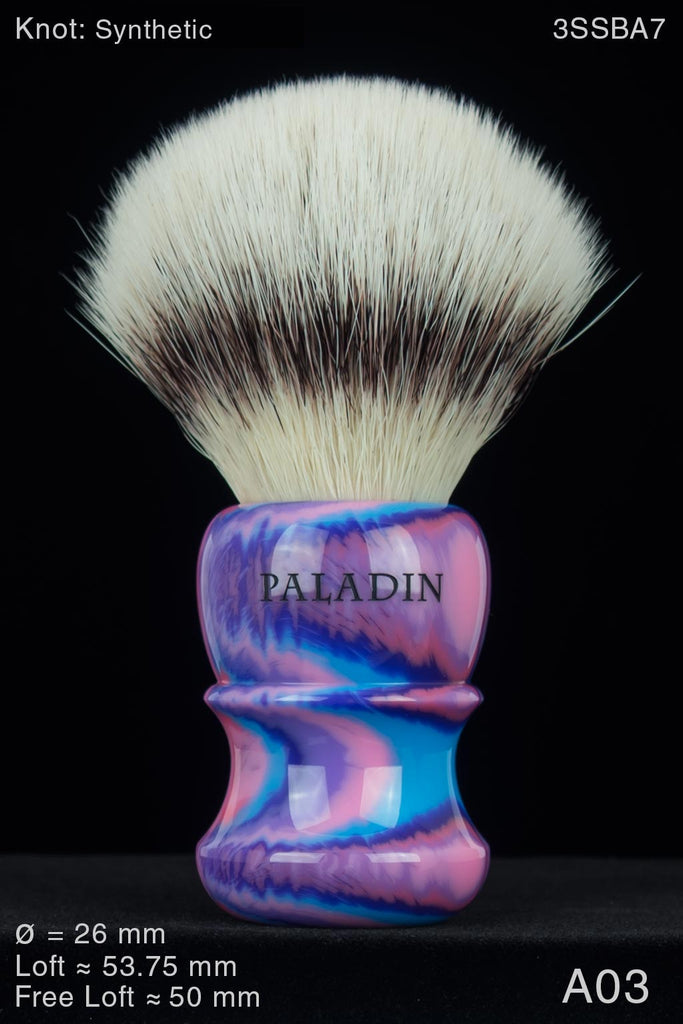 Please Note:
The brush you have added to your cart may only be reserved in your name (pending completion of the transaction) for five minutes from the time you submit payment
PK-47 26 mm A03 Synthetic Purple Haze -
The Paladin™ PK-47™ handle embodies an original design, although it appreciatively reflects traditional influences. The concave section below the ring (or bead) is slightly more open than that of the Chief™, and the PK-47 has just a bit more girth. We were honored by a request to make 100 PK-47s for The Shave Nook's third anniversary (2015), limited-edition brush. It was enthusiastically received; that offering sold out in 97 seconds. This is a nicely balanced brush. At about mid-size in height, the PK-47 serves bowl and face-lathering equally well, at least in our use. 
These are the first brushes we've ever offered with synthetic knots. The knots were made by a producer from whom we've sourced badger-hair knots for over five years. Our prior experience with synthetic knots is very limited, so we aren't in a position to offer comparisons. What we can say is that these are the first synthetic knots we've tried that we enjoyed using and will continue to use as a matter of choice beyond testing. We have found these knots to produce and release lather efficiently and possess very soft tips that also exhibit enjoyable presence.    
Material: Purple Haze (polyester resin)
Knot: Synthetic
Socket diameter: 26 mm
Handle height: 53.25 mm ± 1 mm
Handle diameter: 37.85 mm ± 1 mm

Knot measurements: see accompanying front-side (top) photo.