2022 Paladin Shaving Halloween Event Page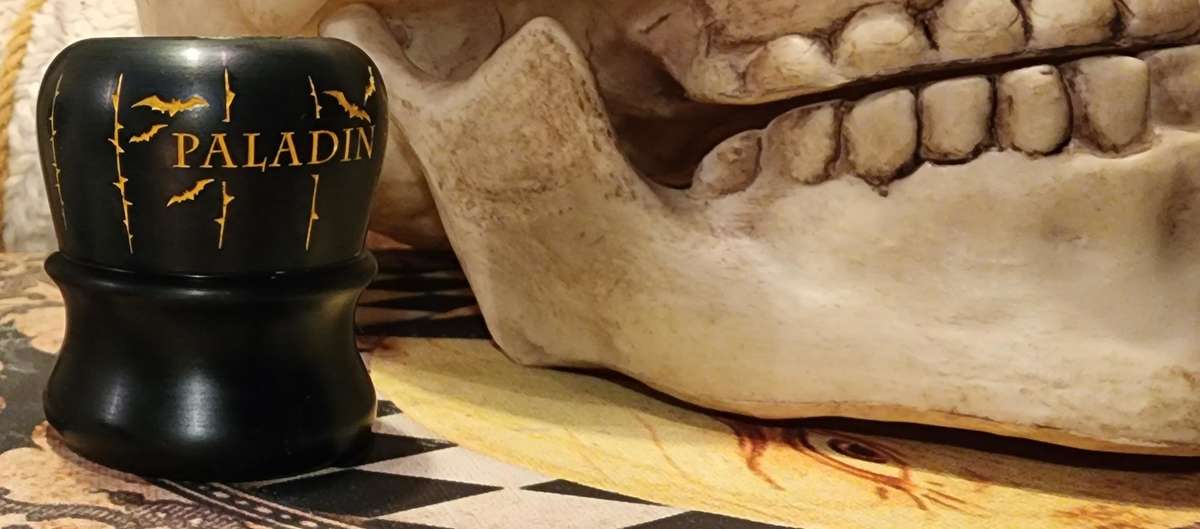 Welcome to Paladin's sixth Annual Halloween Event!
We have closed the window on this years pre-order offering. Thank you all who participated and have a great Halloween!


First things first, this years event is being conducted on a pre-order basis. Handle styles and sizes include 26 mm and 28 mm Falstaffs (i.e., Dark Holler Jacks), 26 mm and 28 mm Sherlocks, 26 mm and 28 mm Tuts, and 26 and 28 mm Moes. As usual, the 2022 Dark Holler Jack is a little different than those from precious years. Each Handle style/size combination is available in Dark Holler Butterscotch and Ebony. Either a polished or satin finish may be selected for both materials.

Choices include:
Handle Materials- Butterscotch and Ebony, in
Engraving colors for Ebony- Red, Yellow, and Grey
Engraving color for Butterscotch- Black
Knot Types- Semi bulb badger and Semi bulb synthetic
These brushes will be made to order, and there are too many potential combinations for us to make and post photos of all of them. Each handle style and engraving are represented below with a group photo, not that not all paint colors are represented. Also note that only the Dark Holler Jacks feature bats on the front side.


If you decide to order a brush, please make your selection carefully. Changing orders will be difficult and become impossible after we start working on them.


We haven't set an exact limit on overall orders, but we will monitor them and remove options (e.g., knot choices) if/when availability is exhausted. We'll also assess progress and exercise our best judgment regarding the number of brushes we can make and ship on a timely basis.

Caveats:


1.) Once again, these brushes haven't been made yet. Production starts with turning handles in our shop in Fort Collins, Colorado. The handles are then delivered to Cody in Clark, CO, where he hand-finishes, laser-engraves, and hand-paints them. After that they go back to Fort Collins for knots and order fulfillment.

2.) Given the nature of this offering, pre-orders will require a full up-front payment in full and will not be cancellable.

3.) Pre-ordered brushes will not be returnable for a refund except by reason of a defect in material or workmanship.

4.) All pre-orders submitted pursuant to this process will be subject to availability of knots and handle material. We may have to cancel and refund orders if they accumulate to exceed existing inventory or production capacity. Unfortunately, we haven't yet worked out a way to automatically discontinue acceptance of orders when one among several limits has been exceeded.

5.) The pre-order process, these instructions, and the pre-order form will be subject to change. So, please review this page whenever you return to it before submitting a new order.

6.) Only 2CLND9 and B3 Synthetic semi-bulb knots are being offered for pre-ordered brushes at that this time. The materials currently available for selection are listed in drop-down menus under the photos below.

7) Upon acceptance of your order and receipt of payment you should receive a confirmation from Shopify via email. If you don't, or if any of the order details don't conform to your expectations, let us know immediately by using the contact form linked below.