Special Events
Paladin Shaving Fifth Anniversary Special Edition PK-47
It's hard to say exactly when Paladin Shaving started. The 2013 Morris & Forndran Chief group buy on Badger & Blade was a seminal experience. A first CAD drawing of the PK-47 was completed in September 2013. We made a road trip to Holmen, Wisconsin (north of La Crosse) in January 2014 to acquire our first CNC lathe (an Austrian-made, 25-year-old, bench-top machine). We came out as Dark Holler Design Works on Badger & Blade in August 2014 and incorporated as an LLC under that name in December of the same year. But from our perspective, what was to become Paladin Shaving first took firm root in July of 2014. That's when serious work toward production of our first batch of brushes in collaboration with Lee Sabini began. It's also when we chose "Paladin" as a name. Those developments came about as a direct result of successfully turning the first PK-47 prototype handle, which happened on July 4, 2014. Lift-off wasn't immediate, but as viewed with the benefit of hindsight, that event clearly effected ignition.


The first PK-47 prototype was turned from acrylic rod produced in Iowa. We ended up purchasing the remnants of another party's custom order and eventually dubbed that material Indigo. Fittingly, the handles we created for this special edition were all made from that stock (same order). We like it a lot, but it's tricky to work with, so we've used it sparingly.


In medieval French legend, the paladins were the twelve closest companions of Charlemagne, comparable to the Knights of the Round Table in Arthurian legend. The classic western TV series Have Gun Will Travel (1957-1963) followed the adventures of a roving gunfighter who went by the name Paladin and whose calling card bore the image of a knight chess piece. We selected a related image for the backside engraving on this special edition of Indigo PK-47s.


We had envisioned doing something on a larger scale in celebration of Paladin Shaving's (and the PK-47's) fifth anniversary; however, we're currently engaged in a major move that hasn't left much time for anything else over the past couple of months. For what it's worth, these brushes are the last (i.e., there won't be any more) Paladins with handles turned, knotted, and photographed in the original Dark Holler Design Works shop in our home, where the first PK-47 prototype (shown below) was also made. This may be a relatively small offering, but it has considerable significance for us.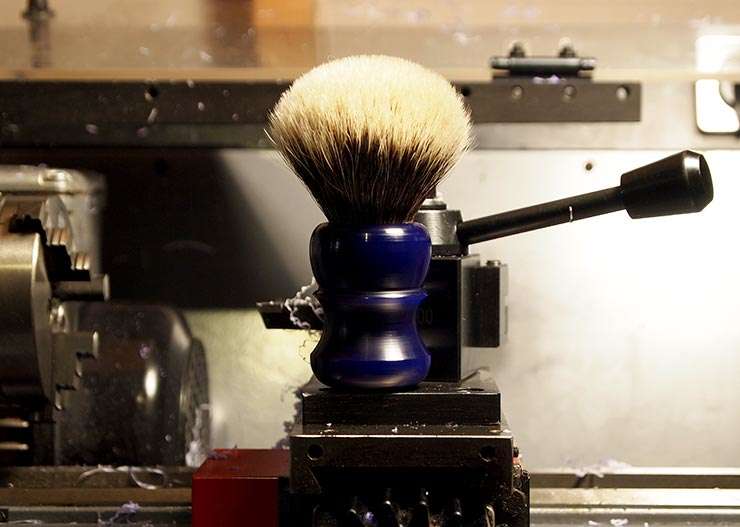 Release information:
There will be 25 Knight PK-47s in this offering, priced at $170 each. Knot specifications are set out in the representative photos below. We did not individually photograph these brushes. All cards will include the same photo.

General instructions
Release time will be 2:00 PM Central, Sunday, July 28th. It would be best to be on this page and have familiarized yourself with the details in advance of launch. Prior registration on the site could facilitate efficiently concluding a purchase.


Upon launch at 2:00 PM Central the link provided on this page will become active. If you click on the link before launch, you will be taken to a page refreshing of which at/after 2:00 PM will also serve to load the link's post-launch target page.


From that page you can add the brush to your cart and continue to check out, assuming a brush remains available. (Note: As usual per Shopify's standard practice, there will be no reservation of a selected brush either in a cart or during checkout prior to payment. )
Sold Out