Paladin Shaving Ebonite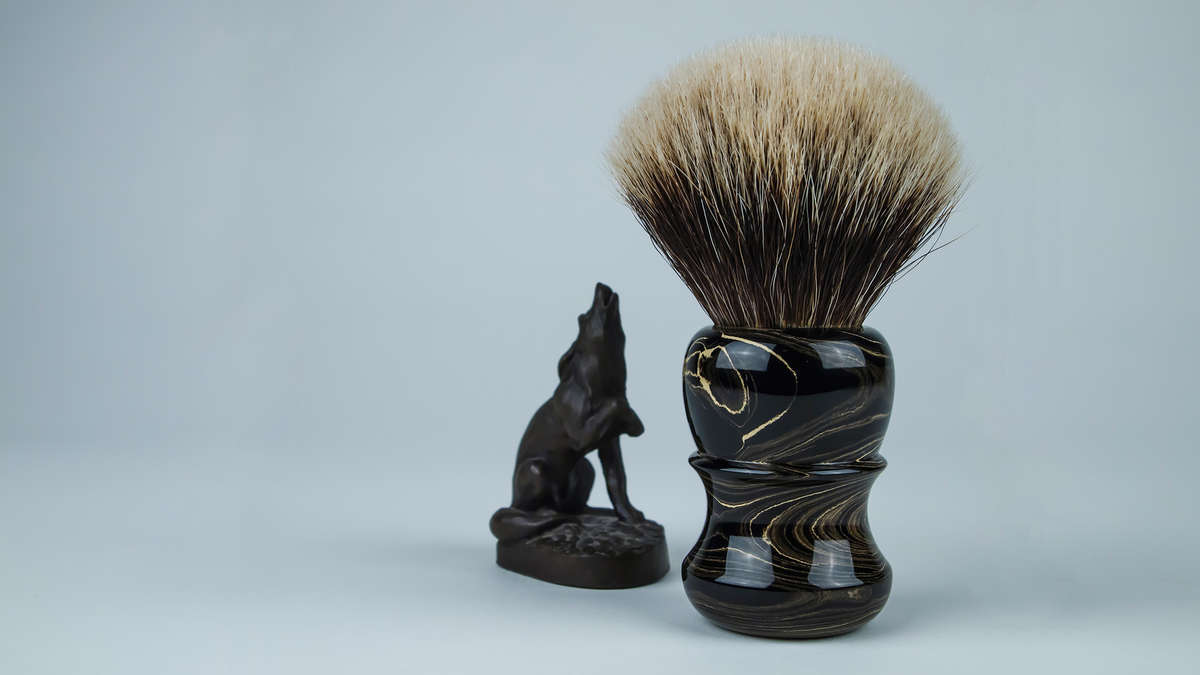 Introducing Paladin® Shaving Ebonite-handled Brushes


We turned our first Ebonite shaving-brush handle on August 11, 2014. That was before we obtained samples of any of the materials included in the First Batch of Paladin shaving brushes produced in collaboration with Lee Sabini. It was before we settled on Paladin as a name. And according to the owner of the world's premiere manufacturer of Ebonite (located in Germany's Black Forest), that was also before anyone else, anywhere, ever turned a shaving-brush handle from Ebonite.


We debuted as Dark Holler Design Works in a post on Badger & Blade (B&B) dated September 7, 2014. It featured images of several of our early Ebonite handles. As we reported at that time, working with the material presented some challenges, but we'd fallen in love with it. There were a few skeptics, however. A B&B Steward was quick to respond:


Wow...I love the idea of an Ebonite handle shaving brush. Ebonite feels great in the hand...much more "organic" than acrylic or other plastics.
My only question is how the Ebonite (hard rubber) will stand up to hot water and soaps. I'm seriously into vintage fountain pens, and Ebonite was a common pen material back in the early part of the 20th century. It's "common knowledge" among the pen collecting community that prolonged exposure to water (particularly hot water) can cause damage and discoloration to Ebonite pens. Also, sunlight can cause color shifts. Maybe there's a reason that early shaving brushes didn't have Ebonite handles? Have you had any real-time experience with using this material in a shaving brush?
Of course, we didn't have any real-time experience with using Ebonite in a shaving brush; no one else did either. That's inherent in being the first to do something. I referred the question to Meike Huijssen, owner and general manager of Schoenberger Ebonite Manufaktur GmbH. Her reply in pertinent part is set out below:


About the comment of this guy… Ebonite is saltwater, acid, and soap !!! resistant. Ebonite can be formed [i.e, shaped] in thin diameters (up to 20mm) if you let it stay in hot water for about half an hour; however, the water would need to be about 80 degrees Celsius (who uses 80 degrees hot water for shaving?), and in the big diameters you use for your handles it will never lose the form.


If ebonite is in direct sunlight over a vast amount of time, the colour lightens up a bit. As for every natural material, constant maintenance will prevent a change of colour. The argument concerning Ebonite has not been used for shaving brushes, since it ain't one. I am not sure why they did not use it, as I can see no downside to it. It might be the case that they simply did not think of it.


That was comforting to hear, but we had a lot at stake and decided it would be best to proceed with caution. We purchased several meters of Ebonite at significant cost and made over two dozen Ebonite-handled brushes with knots supplied by Lee Sabini. A handful of those were carefully placed with individuals we regarded as friends, a few were donated to a charity auction, and several were kept for testing by us in use and stored with various exposure to light.


In early 2016, we finally decided to move forward. One of us made a road-trip from Kansas City to Chicago to meet with Meike at a pipe show and returned with high confidence that we were finally in position to launch Paladin Ebonite. But long-story-short, due to a succession of obstacles and issues we delayed release of Ebonite-handled shaving brushes for sale here on our website for another two years. Although that was highly frustrating, we used the time productively to advance our mastery of turning, finishing, and engraving Ebonite.


Inevitably, a few other brush makers have ventured to try their hands with the material. The fact remains, however, that no one else comes close to matching our cumulative experience in creating Ebonite shaving brush handles. We believe that experience and the passion that drives us to pursue uncompromising excellence in design and production are reflected in the brushes offered here.


We hope you will be pleased in turn.


Shop Ebonite