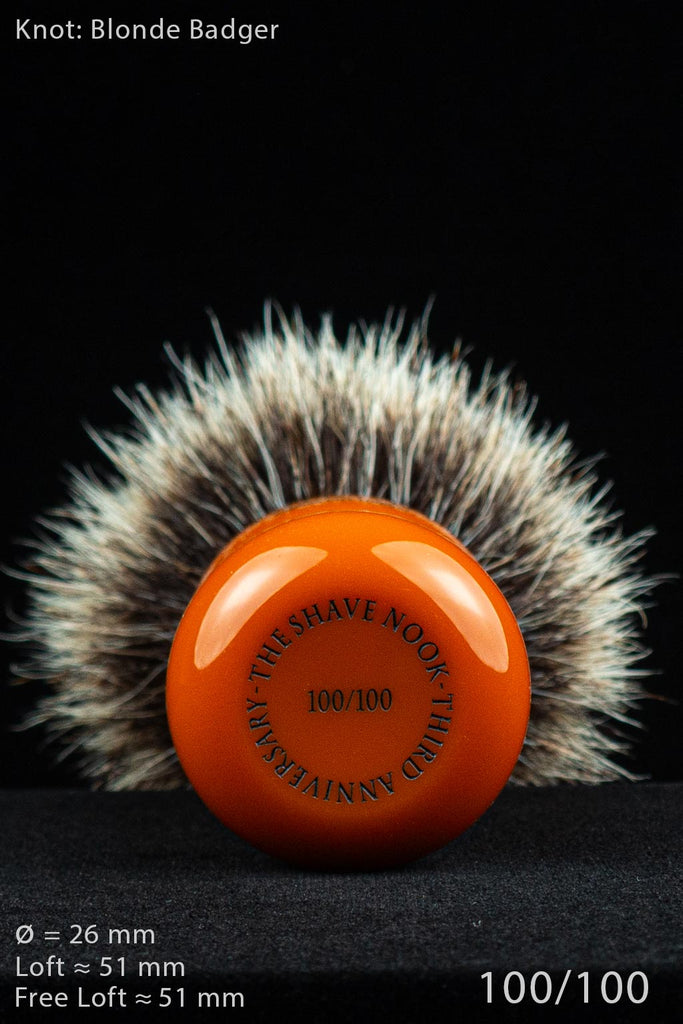 Please Note:
The brush you have added to your cart may only be reserved in your name (pending completion of the transaction) for five minutes from the time you submit payment
Shavenook Third Anniversary LE 100/100 NOS with Blonde Badger -
This Butterscotch PK-47 is 100 of 100 limited edition brushes we made in collaboration with Lee Sabini in the first half of 2015 to commemorate The Shave Nook's third anniversary. Sadly, with The Shave Nook's recent demise, most of the recorded history of that offering is no longer accessible; however, a number of contemporaneous photos we posted in connection it can still be viewed in our Flickr Gallery
here
. Long-story-short, we were commissioned to make 100 brushes, which ended up selling out within 97 seconds. In fact, the orders came in so fast that PayPal allowed four additional orders to be processed before the inventory limit that had been set for 100 kicked in. Rather than disappoint those four buyers, we made brushes for them, numbered -1, -2, -3, and -4. Those were the last brushes we produced in partnership with Lee. Here is an opportunity to own
100/100
from that epic offering (engraved and knotted before -1 through -4 of "100" were turned). This brush has never been used.
Material: (polyester resin)
Socket diameter: 26 mm
Handle height: 53.25mm ± 1mm
Handle diameter: 37.85mm ± 1mm

Knot measurements: see accompanying front-side (top) photo.