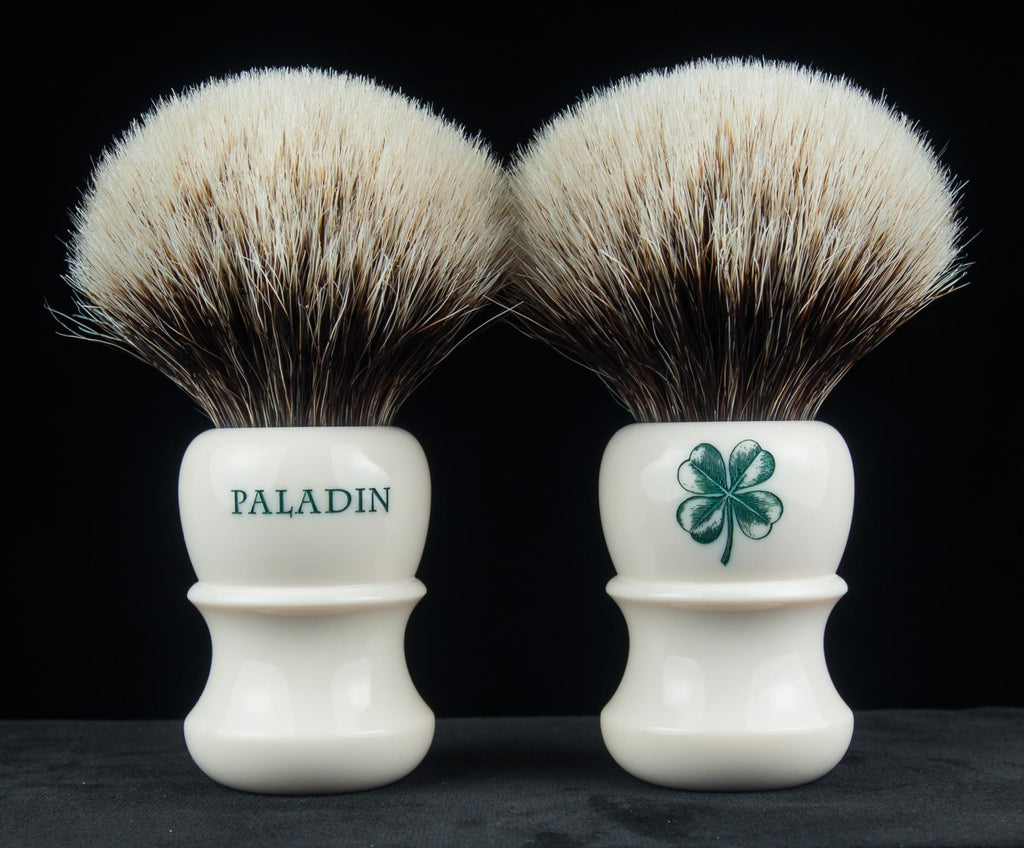 Please Note:
The brush you have added to your cart may only be reserved in your name (pending completion of the transaction) for five minutes from the time you submit payment
2022 Paladin Shamrock PK-47 26 mm Somerset -
In celebration of Saint Patty' day this year we decided to produce a limited run of Shamrock-engraved brushes. This offering (which is set to go live at 2:00 PM Mountain Time on Sunday, March 13) includes a choice between 26 mm PK-47s and 26 mm Chiefs in either polished Jade or polished Somerset.

Prices:

Brushes will be priced at $190.00 unless you opt for a synthetic knot, read below for further information.
Synthetic B3 or Badger 2CLNK8? Time Sensitive Information, Read Carefully.

We will set Select Badger 2CLNK8 knots in all orders unless a synthetic knot is requested per the following instructions. If you would prefer a synthetic knot, please send us an email addressed to paladinshaving@darkholler.com, and be sure to place 2022 Shamrock Synthetic in the header. In the body of the email include your name, your order number, and state whether you would prefer a fan or semi-bulb. Upon receiving your request, we will confirm its receipt and refund $20. All requests must be made within two hours of the corresponding order's placement, otherwise we will proceed to set a Select Badger 2CLNK8 semi-bulb.

Process

All of the handles made for this offering have been turned, polished, engraved, and transported from Clark, CO back to Fort Collins, where they are awaiting their knots. After an order is placed we will wait two hours to allow time for request of a synthetic knot to be submitted per the instructions above, subsequent to which we'll do our best to set knots and post the brushes via USPS Priority Mail as soon as we reasonably can.

Note that photos of the handles are intended to represent the material, not each individual brush. There will inevitably be some variation in the Jade. Brushes will be assigned to orders based on random selection. Given that these brushes will be made to order, return requests will only be accepted in the case of defects in material or workmanship.

Brush inventory will populate the page below at 2:00 PM Mountain Time on Sunday, March 13. Be sure to hit refresh if they do not appear immediately.