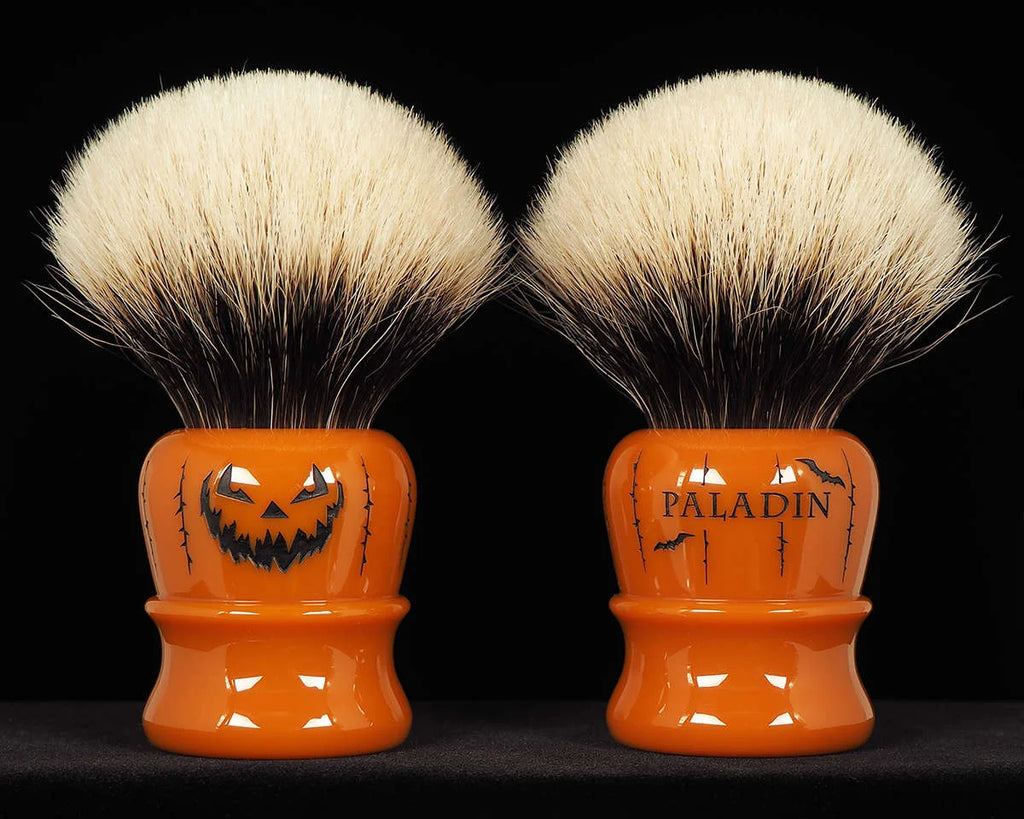 Please Note:
The brush you have added to your cart may only be reserved in your name (pending completion of the transaction) for five minutes from the time you submit payment
2023 Dark Holler Jack 26 mm with Select Badger 2CLND9 Knot -
This year we decided to go back to our roots and brought back the OG Dark Holler Jack. First debuted in 2017, Jack became a staple to our yearly Halloween offering. Jack has taken on many faces over the years and has been a favorite not only among our patrons, but also the makers here at Paladin Shaving. 

Although we have representative photos of the Dark Holler Jack from his second debut 2018, seen with two bats, this years Dark Holler Jack with be engraved with six to represent the 6th year of our Halloween Offering. 

The Process:

First things first, this years event is being conducted on a pre-order basis. Handle styles and sizes include 26 mm and 28 mm Falstaffs (i.e., Dark Holler Jacks). As usual, the 2023 Dark Holler Jack is a little different than those from precious years. Each Handle style/size combination is available in Dark Holler Butterscotch, Antique Ivory and Ebony. Either a polished or satin finish may be selected for all materials.

Choices include:
Handle Materials- Butterscotch, Antique Ivory and Ebony
Engraving colors for Ebony- Red and Yellow
Engraving color for Butterscotch- Black
Knot Types- Select Badger Semi bulb badger, Oumo Badger and Semi bulb synthetic
These brushes will be made to order, and there are too many potential combinations for us to make and post photos of all of them. Not all paint colors and materials are represented on this page. Also note that the Dark Holler Jacks will feature 6 bats on the front side.


If you decide to order a brush, please make your selection carefully. Changing orders will be difficult and become impossible after we start working on them.


We haven't set an exact limit on overall orders, but we will monitor them and remove options (e.g., knot choices) if/when availability is exhausted. We'll also assess progress and exercise our best judgment regarding the number of brushes we can make and ship on a timely basis.
 Socket diameter: 26 mm
Handle height: 45.25 mm ± 1 mm
Handle diameter: 39.75 mm ± 1 mm