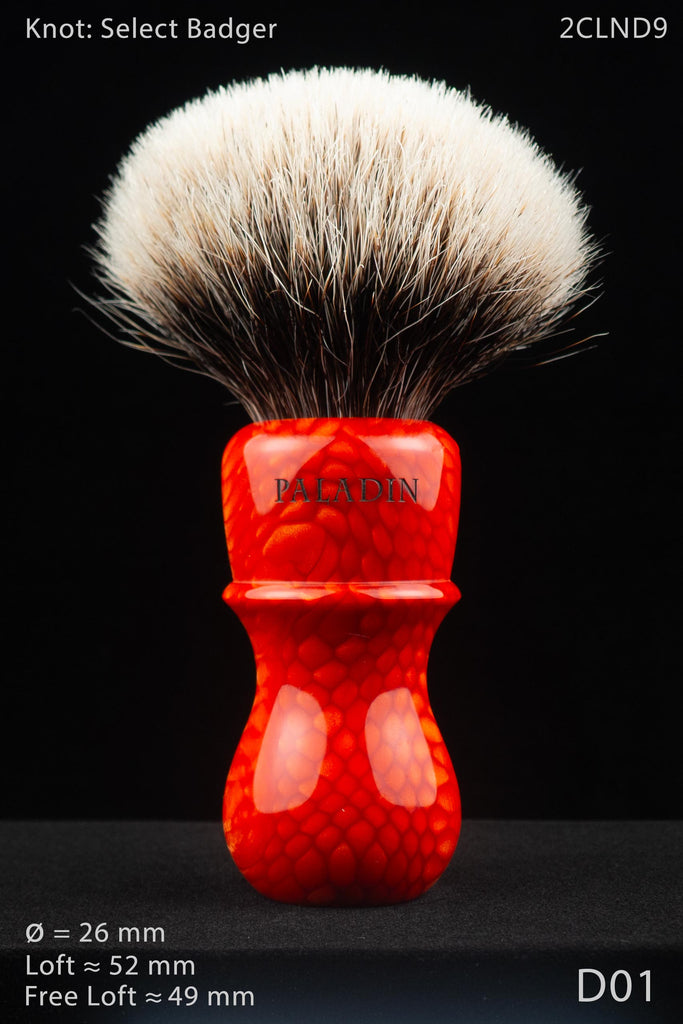 Please Note:
The brush you have added to your cart may only be reserved in your name (pending completion of the transaction) for five minutes from the time you submit payment
Ichabod 26 mm Juma Fire -
Believe it or not, this handle design was most directly inspired by and derived from the Paladin Cleo, which in prior turn derived from our El Dorado. The Paladin El Dorado was very respectfully based on a rare Simpson M8 in our collection of vintage butterscotch.


In April of 2018 we posted a photo of five, unfinished Ebonite Cleo handles, which included an example turned from Cumberland Honey. We kept that one, and while handling it one of us noticed that it was remarkably comfortable to hold upside down. At the time we talked about the possibility of integrating elements of the Cleo's design in a barber-style handle. We finally got around to making a start on that project in early January of this year. A first prototype came off the lathe on February 22, but after we inserted a knot in it, we weren't satisfied with the proportions. A succession of distractions subsequently cropped up, and the project stalled. In May, however, we returned to it and, after making a few adjustments, finalized our 32nd official Paladin handle design.


Although in our experience the Ichabod works just fine for face lathering, with a handle height of about 73 mm, many will probably find it better suited to bowl lathing. Handle diameter is close to 37 mm (as compared to a 26 mm Chief's 38 mm girth). But the Ichabod does not, in our opinion, feel small in hand. In fact, we find it to be very well balanced and comfortable to hold. And now, finally, we're pleased to introduce the new Ichabod!

Socket diameter: 26 mm
Handle height: 73 mm ± 1 mm
Handle diameter: 37 mm ± 1 mm
Knot measurements: see accompanying front-side (top) photo.